The LSL ACS is a hardware and software combination that provides a complete solution for tracking, electronic door authorization, access control, auditing, and logging.  It can be configured to utilize RFID tags, magnetic card readers, HID ProxCards and many other data acquisition types.
The LSL ACS consists of three key components, two software, one hardware.

This system allows the tracking, auditing, control, and immediate real-time cancellation of digital key cards.  Every RFID tag, swipe card, or ProxCard access is checked against the core security database.  If the card holder is authorized to access the area, the door solenoid is fired and opened.  A log entry for successful entry is made.  If access is denied the door is not opened and a security log is made.  This can optionally be used to notify and dispatch a security detail. 
LSL has designed and developed a hardened Linux based embedded industrial class solution utilizing a robust distributed paradigm.  
Combined with LSL Enterprise Server software this system provides a complete multi-format access control solution for tracking people, assets, vehicles, and securing buildings with integrated billing/charge back capability for parking applications.
LSL provides a complete stack of software, hardware, and documentation for end to end implementation of a complete system.
Diagram
Block diagram showing basic logical layout of the LPN-SEC based system and relation to the LSL Enterprise Server and LSL Enterprise Console.  In the App Note section below is an overview of some of the ways this technology can be implemented in your environment.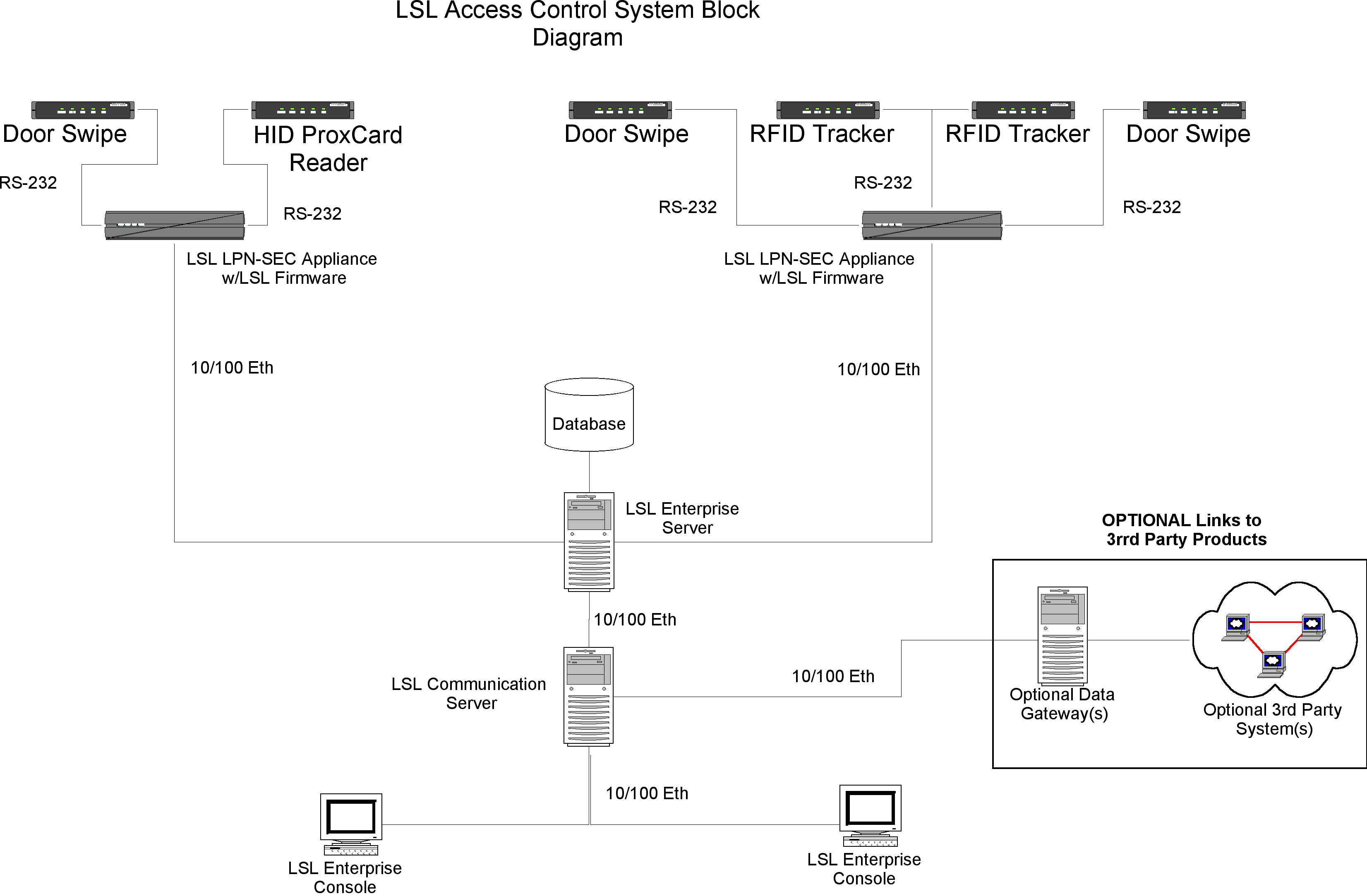 LSL LPN-SEC appliance
LSL Enterprise Server
LSL Communication Server
LSL Enterprise Console
LSL ACS Application Notes
LSL ACS Specifications
LSL ACS Screen Shots
For additional information contact us at sales@linux-software.com.