The LSL Server Manager v1.2 is a simple to use graphical client application along with a highly secure server component that facilitates easy management of LSL Linux based appliances and servers.
By providing users a simple and consistent graphical configuration and management system, LSL has made it very simple for ordinary businesses to harness the power of Linux in their computing infrastructure.
LSL Server Manager Features:
Available as a Virtual Machine or installable software pack.
Support unlimited number of LSL Linux systems for configuration, data storage, logging, and hardware configuration.
Supported on Linux, Windows 7, 10, 2012, 2016, 2019, and Mac OS X.
Compatible with a range of enterprise class databases for data and configuration storage. Allows for a single database of all LSL Linux based systems for managing with a click to select.
Supports advanced RSA and AES encrypted communications.
Not resource intensive.
Capabilities for configuration of LSL Linux based Appliance / Servers:
Secure AES & RSA encrypted communication protocol.
Start and Stop services running on LSL Linux based systems ( like LSL LPN-SEC ).
Ethernet & TCP/IP parameter configuration. Manual or DHCP config
Time setting and retrieval.
Data retrieval from multiple access control reader units.
Database server configuration, ability to backup database servers and upload the backup files to the client for long term storage
Remotely manage preference settings for LSL applications / firmware like LSL Enterprise Server, LSL LPN-SEC, LSL Touchscreen POS System, etc.
Remotely update LSL applications / firmware like LSL Enterprise Server, LSL LPN-SEC, LSL Touchscreen POS System, etc.
Backup Linux configuration information for upgrades, hardware replacement, etc.
Configure hardware systems like relays, serial adapters, and additional storage for integration into the system
Status retrieval and updates of unit health and communications.
Screenshots:
Click on any of the graphics for a full resolution version.
Opening Screen
Pick a primary area to configure/manage:
Windows 7: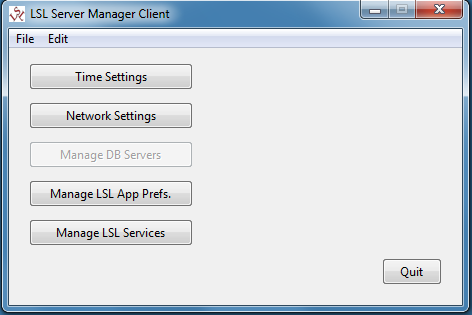 Mac OS X: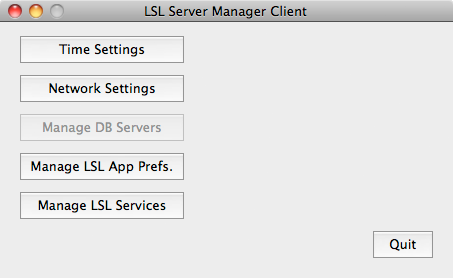 Linux ( RedHat 5 ):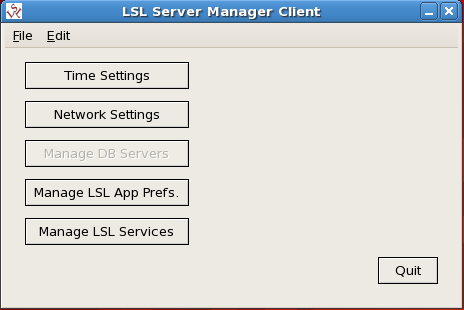 For additional information contact us at sales@linux-software.com.